'Freak accident': Yoga teacher killed after Christmas party
"I am feeling totally stunned and greatly saddened that such a beautiful spirit has left us," one friend wrote on a social media posting.
Meanwhile, more than 22,000 homes in the region are without power, with more than 450 locations of damage to the network.
NSW Police Acting Assistant Commissioner Andrew Holland said there were "a hell of a lot of fallen trees in the area and powerlines down".
"The roof was ripped off two buildings in Narrabeen. It's been very concerning," he told the ABC.
There was severe damage to residential areas, from Mona Vale to Forestville, as wind speeds up to 130km/h caused trees to fall and spread debris.
NSW's State Emergency Service responded to almost 600 requests for assistance from 3pm on Sunday.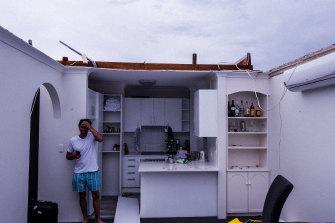 NSW Ambulance Superintendent Paul Edwards said the two injured women had head, spinal and internal injuries. He praised the surf lifesavers who were first on scene who "performed an amazing job looking after the patients before our arrival".
Mr Edwards said many people had "near misses".
Loading
Blake Coppell moved into his Dee Why apartment 10 days ago and watched with shock as the storm blew the roof off his building.
"It's a bit insane," he said. "The storm came through and incrementally got worse and worse. Everything out on the balcony started flying around.
"I ran outside and rain was pouring in through the stairwell where there was a roof before."
Mr Coppell ran upstairs to make sure the top-storey residents were safe before helping them ferry their belongings downstairs to safety.
"As we walked around Dee Why, some of the beams from our roof actually pierced through the roof of a neighbouring building," he said.
Fire and Rescue NSW Chief Superintendent Darryl Dunbar said the storm was "quite ferocious" and noted large trees that "snapped like a toothpick".
"This area is a bit of a natural corridor for these weather events, but it has been some time since we've seen the extent of this damage," he said.
Fellow Dee Why resident Nathan Lavers said he noticed some rain seeping under the door to his balcony and started to step outside when he "heard a huge crash and the whole roof ripped off".
"It was more like a hurricane, it was that loud and strong," he said.
Mr Holland said structural engineers investigated the damaged buildings that lost their roof, but they have since been declared safe.
Mr Coppell said he hopes the clean-up process is speedy.
"Luckily everyone I met yesterday was all offered spare rooms. The community has been amazing," he said. "I hope I can get back in [soon] and have Christmas at my place."
Sydney's weather forecast is calmer this week with sunny and warm conditions predicted. Storms are possible late on Wednesday and Friday. Christmas Day is expected to be 30 degrees and partly cloudy.
With Pallavi Singhal and James Brickwood
The Morning Edition newsletter is our guide to the day's most important and interesting stories, analysis and insights. Sign up here.